Regular price
$22.00
Sale price
$20.00
Unit price
per
Sale
Sold out
Trustworthy Nutrition for Your Beloved Cold Water Pond Fish
Premium Cold Water Fish Food Pellets: Unleash the Health and Beauty of Your Aquatic Pets
Nourish and Enhance with Premium Cold Water Fish Food Pellets
Feed Your Aquatic Pets with Premium Cold Water Fish Food Pellets
Give your cold water fish the ultimate nutrition they deserve with our Premium Cold Water Fish Food Pellets. Specially formulated to meet the dietary needs of cold water species, these pellets provide a balanced and enriching diet that promotes their health and enhances their natural beauty.
Unleash the Vibrant Colors
Immerse yourself in a world of vibrant hues as you feed your fish with our Premium Cold Water Fish Food Pellets. Enriched with essential nutrients and carefully selected ingredients, these pellets unlock the true potential of your fish's colours, revealing a mesmerizing display of brilliance that will captivate all who lay eyes upon them.
Promote Health and Vitality
Watch your fish thrive with vitality and energy like never before. Our Premium Cold Water Fish Food Pellets are packed with high-quality protein, vitamins, and minerals to support their overall health and well-being. These pellets provide the necessary building blocks for healthy and vibrant aquatic life, from enhanced immunity to optimal growth.
Irresistible Delights for Finned Friends
Indulge Your Cold Water Fish with Premium Cold Water Fish Food Pellets
Treat your finned friends to a compelling dining experience with our Premium Cold Water Fish Food Pellets. Crafted with a blend of flavours and textures that will entice their taste buds, these pellets provide essential nutrition and bring joy and excitement to their daily feeding routine.
A Culinary Adventure for Their Senses
Let your fish embark on a culinary adventure with our Premium Cold Water Fish Food Pellets. Each bite is a delight as they savour the delectable blend of ingredients carefully chosen to satisfy their palate. From the first nibble to the last, your fish will experience a sensory journey that will leave them eagerly anticipating their next meal.
Easy-to-Consume for Effortless Feeding
Feeding your cold water fish should be a breeze, and our Premium Cold Water Fish Food Pellets make it effortless. Designed for easy consumption, these pellets are bite-sized and easily digestible, ensuring every morsel is effortlessly enjoyed. Say goodbye to wasted food and hello to a clean and pristine aquatic environment.
Trusted Quality for Peace of Mind
Premium Cold Water Fish Food Pellets: Trustworthy Nutrition for Your Beloved Fish
We understand your deep bond with your cold water fish, and that's why our Premium Cold Water Fish Food Pellets are crafted with their well-being in mind. With a commitment to quality and excellence, we provide you with a trusted source of nutrition that you can rely on for the long-term health and happiness of your beloved aquatic pets.
Superior Ingredients for Optimal Nutrition
The best nutrition comes from the finest ingredients nature has to offer. Our Premium Cold Water Fish Food Pellets are made from a carefully selected blend of high-quality protein sources, vitamins, and minerals. Each pellet is packed with essential nutrients to ensure your fish receive the optimal nutrition they need to thrive.
Trusted by Fish Enthusiasts Worldwide
Join the global community of satisfied fish enthusiasts who have made our Premium Cold Water Fish Food Pellets their top choice. With a reputation for quality and customer satisfaction, our fish food has become a trusted companion for fish owners worldwide. Experience the difference today.
Broad Match Keywords:
Premium cold water fish food
Cold water fish nutrition
Vibrant colours for cold water fish
Irresistible fish food for finned friends
Easy-to-consume fish food pellets
High-quality ingredients for cold water fish
Trusted cold water fish food brand
Optimal nutrition for healthy cold-water fish
Enhance fish beauty with premium food pellets
Customer satisfaction with cold water fish food
Share
Have any of these questions?
Shipping

Our shipping fees apply to UK residents. If you're further afield then reach out to us with your order, then dispatch cant calculate the shipping fees
View full details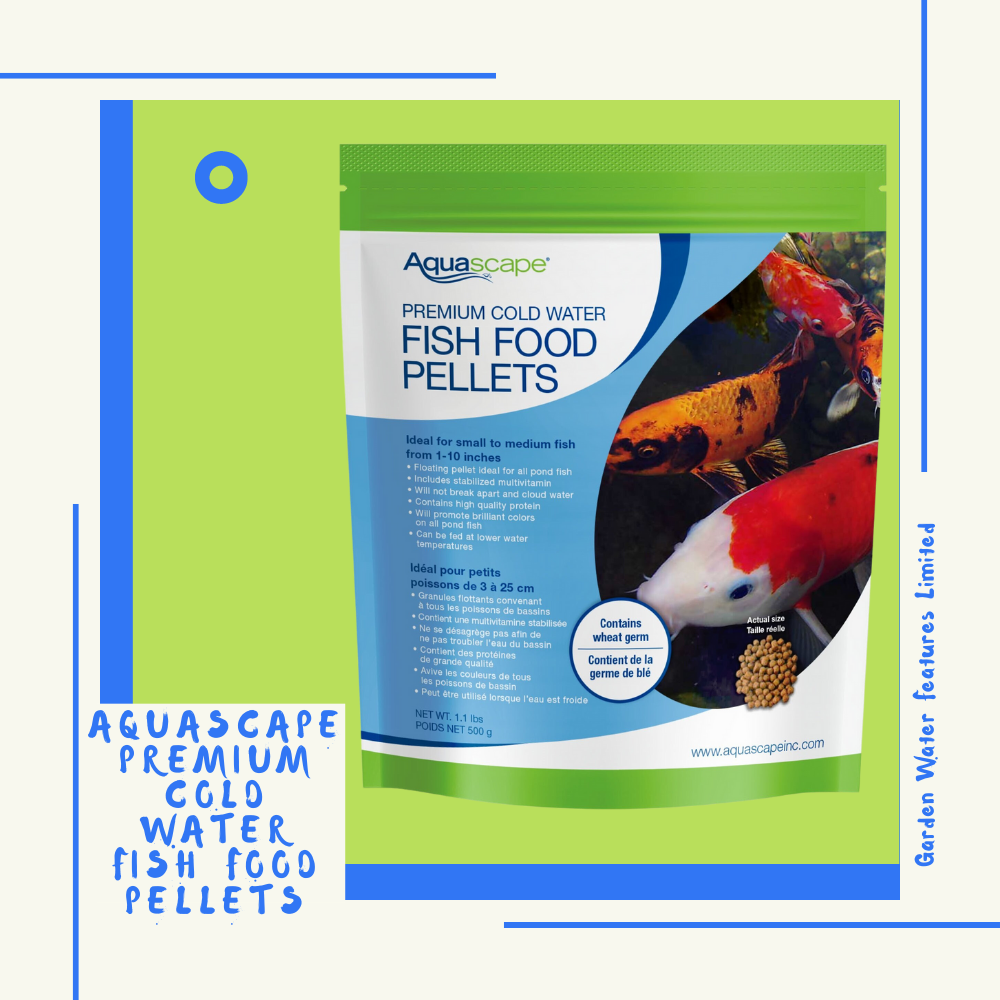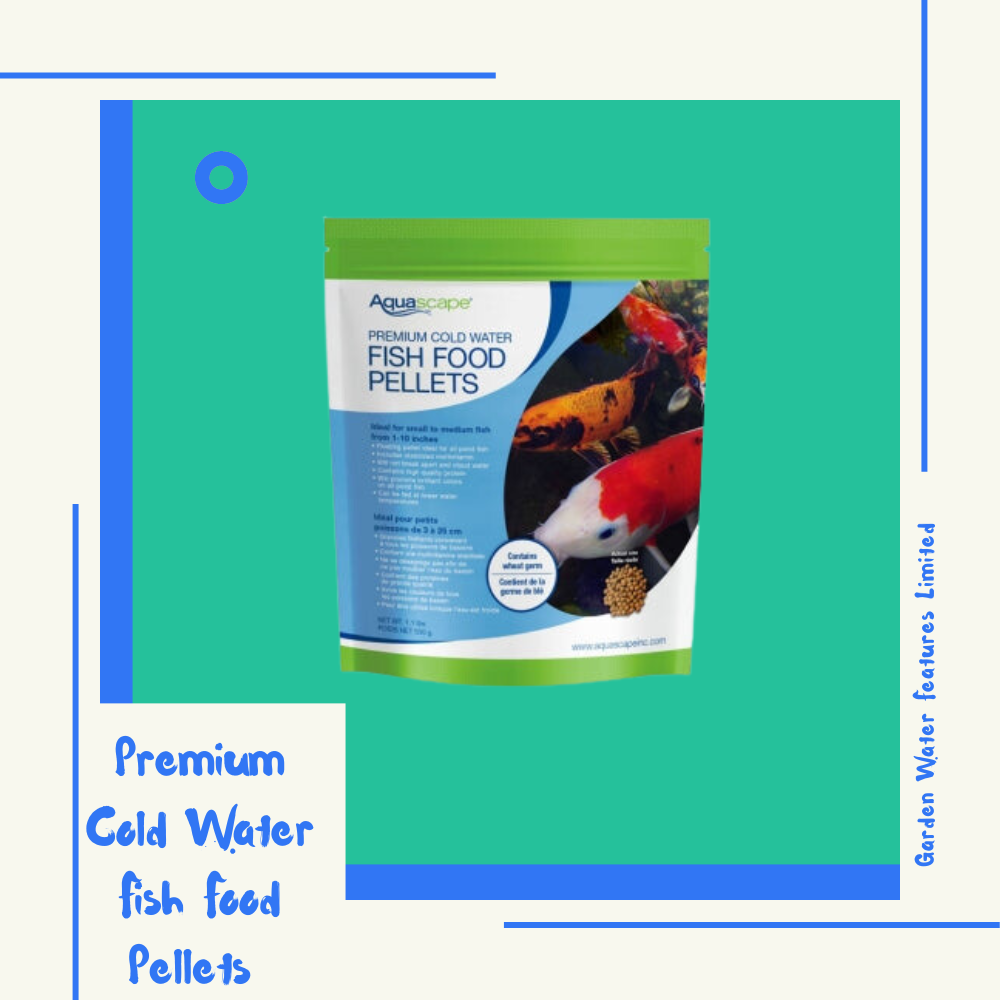 Hand Feed Your Pond Fish
Watch this video to learn how.