Regular price
£61.65
Sale price
£48.32
Unit price
per
Sale
Sold out
The Aquascape AquaBlox® large water storage module displaces the water for use with Pondless® Waterfall reservoirs, rainwater harvesting projects, and other water feature applications.
What do aqua blocks do?
AquaBlox® are manufactured using recycled materials and designed to efficiently maximise water storage capacity, providing the ability to hold more water with a smaller reservoir footprint.
Each large AquaBlox® volume is 126 litres.  Holding approximately 7.4 gallons of water per cubic foot, the large AquaBlox® 
This extra storage capacity will mean less time to top off the reservoir due to evaporation. Using AquaBlox® will also decrease the amount of labour, liner, and underlayment required during installation.
How much weight can an aqua block hold?
The load-bearing top will support up to 2.5 tons (5,472 pounds) per square foot. Each AquaBlox® with take 4 Ton. Providing years of trouble-free enjoyment and allowing for installation in various situations.
Aquascape AquaBlox® are easy to clean, less prone to clogging, and complete with the top, bottom, two sides, and four structural supports.
AquaBlox

®

dimensions - Large (Aquascape Aqua Blocks)

68.5cm Long x 41cm Wide x 45cm High. 

These plastic units come flat-packed that are then easily assembled on-site. Also available are double-sized units ideal for larger pondless systems or increasing your water storage area.  Did you know these basins can be made to hold rainwater—an underground tank custom size that can be used to irrigate from? 
What are the differences between AquaBlox and other alternatives in a pond?
AquaBlox is engineered explicitly for in-ground water storage management. It is designed to handle much greater load-bearing weights than milk crates or other alternatives.
Using Aquablox allow more than three times the water storage capacity v simply digging a hole and filling it with gravel.  This is what we used to use to create pondless waterfalls years ago.  So now, using aquabloxs helps reduce the size of the hole.

We have also moved away from metal grids because you don't need to support the metal grid with concrete walls (avoiding subsidence).

How the AquaBloxs are made and designed, they will not deform, even more so when installed correctly with loose free draining material. You can use these alongside the pump vaults and create many shapes

8 Aquabloxs to a square meter.
Can you stack AquaBlox up for more extensive applications?
Yes, you can stack AquaBlox together or on top of each other; in fact, AquaBlox will fit in several different configurations. We have also removed aquabloxs to make them smaller or use them as separate panels.
Share
Have any of these questions?
Shipping

Our shipping fees apply to UK residents. If you're further afield then reach out to us with your order, then dispatch cant calculate the shipping fees
View full details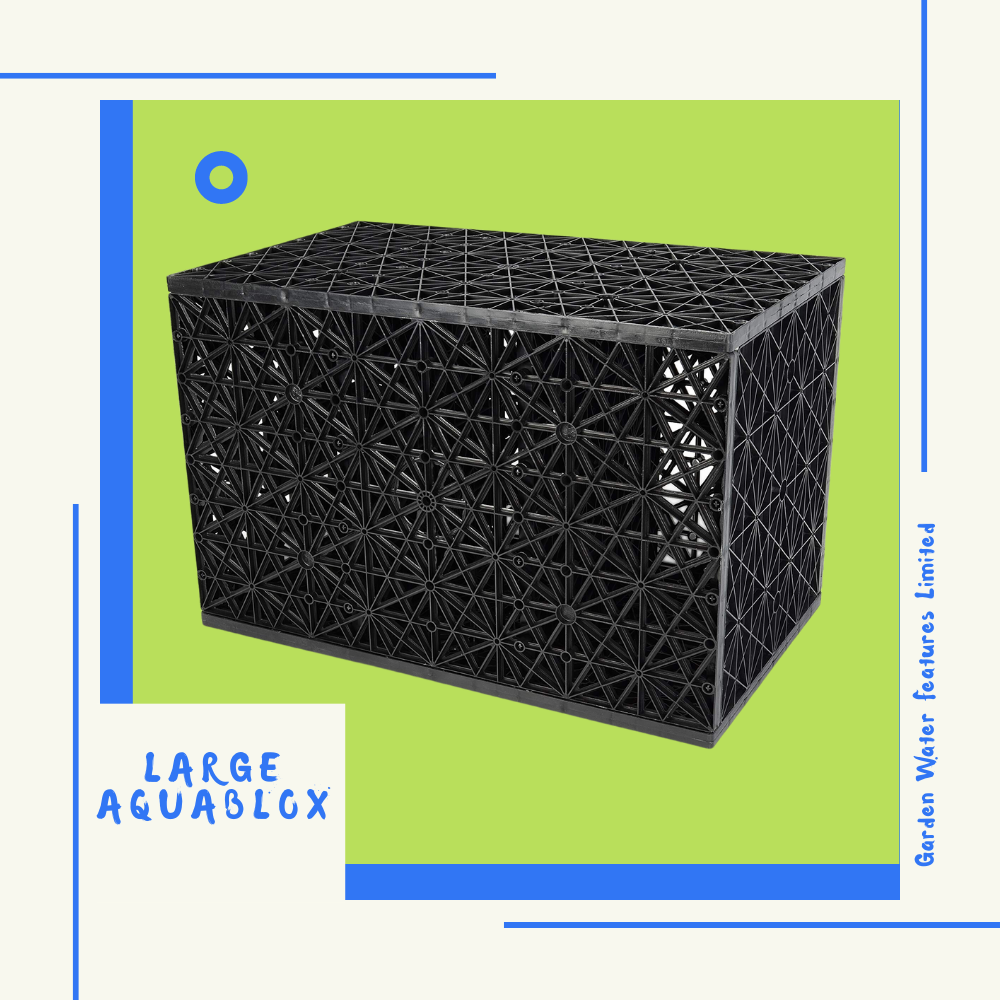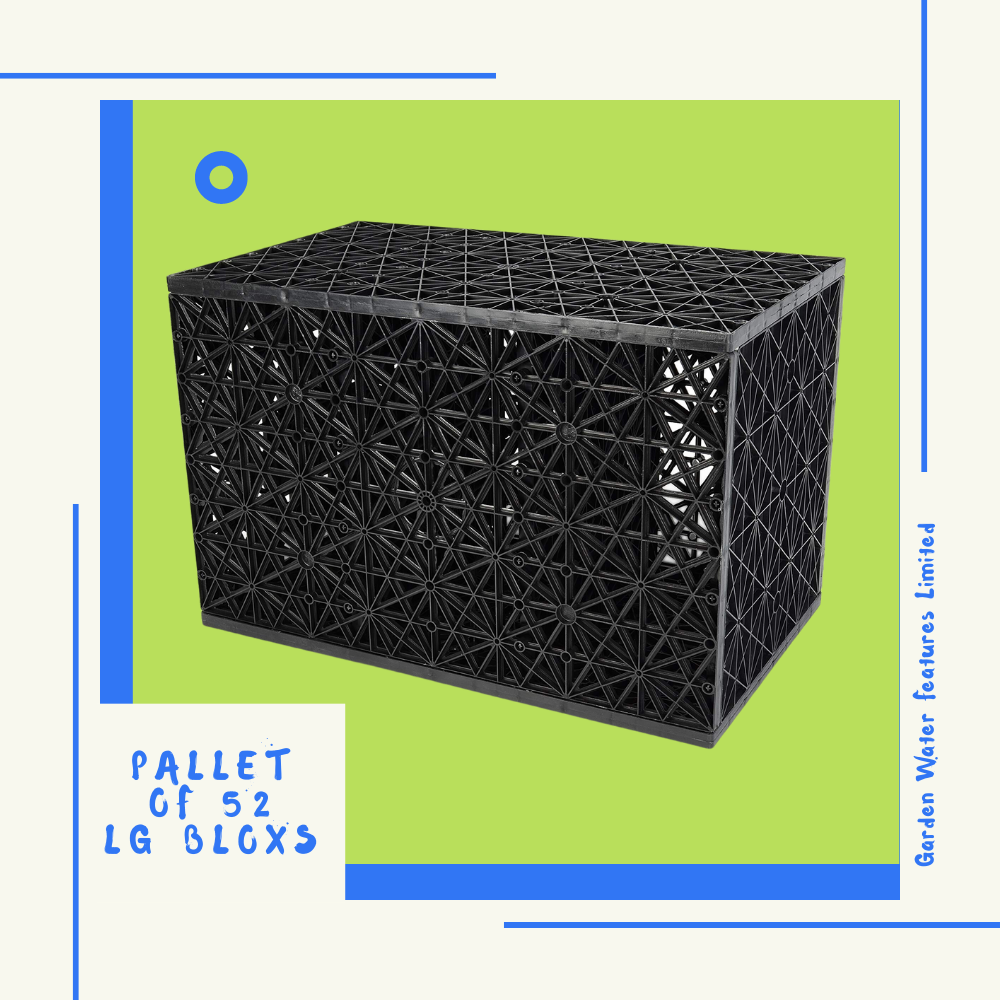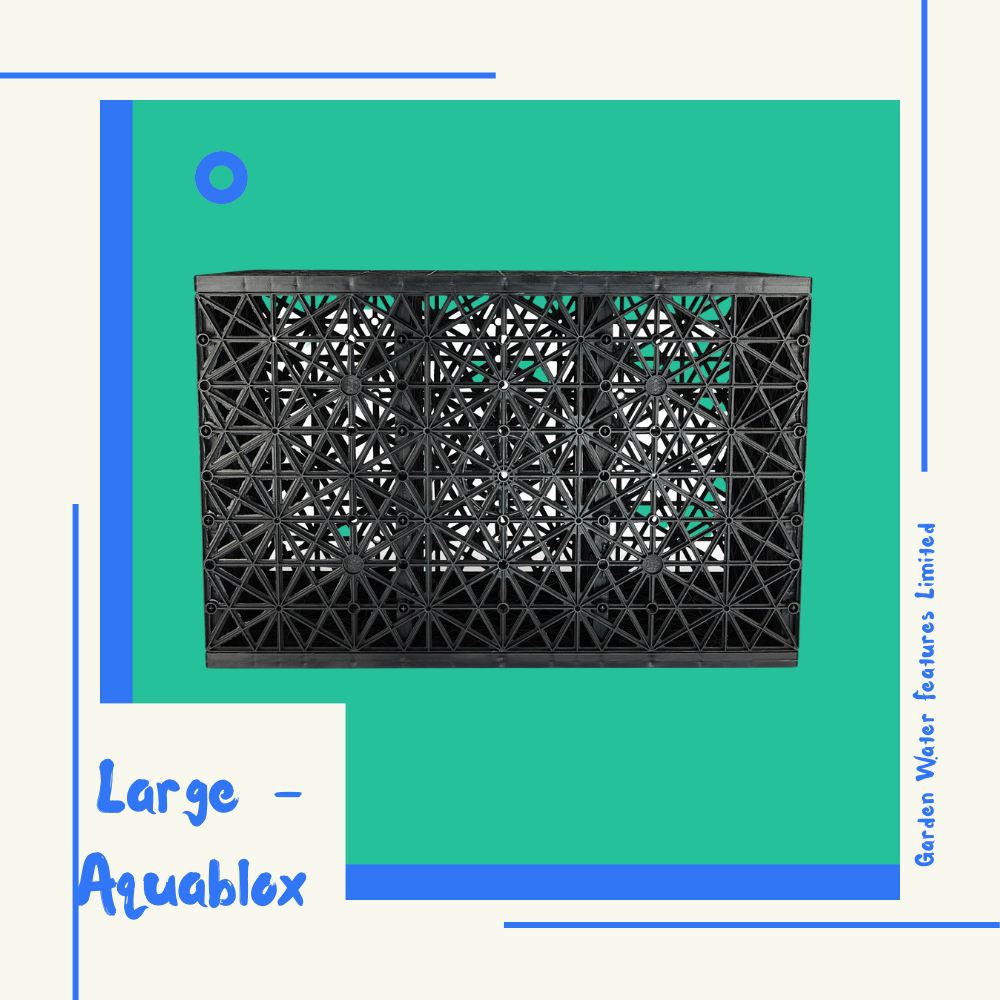 Hand Feed Your Pond Fish
Watch this video to learn how.