Regular price
£3,548.32
Sale price
£3,332.48
Unit price
per
Sale
Sold out
Discover the Transformation of Your Garden with Our Medium Pond Kit
Unlock the potential of your outdoor space with Garden Water Features Limited's exclusive Medium Pond Kit. You can instil elegance and tranquillity into your garden, creating a remarkable focal point that enhances your property's aesthetic appeal.
The Medium Pond Kit allows for creating an aquascape ecosystem pond in a space of 4.8m x 3.3m and a maximum depth of 60cm. Our all-inclusive package ensures everything you need to complete your project is delivered directly to your door in Hampshire or elsewhere in the UK.
Signature Series Products
Our kit has the Signature Series 1000 Pond Skimmer and Signature Series 2500 Biofalls Filter, including a rock tray and faux rock lip. These high-quality products are designed to maintain a clean and healthy environment for your pond life.
High-Quality Materials
We've bundled in a robust 1mm EPDM liner and non-woven Geotextile Underlayment, both top and bottom, to ensure the durability of your pond. The kit includes all necessary 63mm fittings and a flexible 8m x 63mm PVC Pipe.
Included Accessories
We include a pump check valve assembly and an installation kit with a Silicone Sealant, EPDM Liner Patch, Pond and Waterfall Foam Sealant, and Glue. These ensure your installation is as seamless as possible and your pond remains in prime condition.
Efficient UK Pond Pump
The UK Pond Pump - SLD 4000-7000 ensures optimal water circulation. It's efficient and reliable, designed for low energy consumption while maintaining high performance.
LED Lighting Package
Our Garden and Pond LED Lighting package includes 2 x 3 Watt LED Spotlights, 1 x 1 Watt LED Waterfall an Up Light, a 50 Watt Transformer and Photocell, and a 3-way Splitter with a 25' Quick-Connect Extension Cable. These lights add an enchanting glow to your garden, extending the hours you can enjoy your water feature.
Automatic Dosing System
Keeping your pond's ecosystem healthy and vibrant has always been challenging. Our Automatic Dosing System for Ponds, included with this kit, ensures your water stays fresh and clean with minimal effort.
Experience the serenity and peace of a beautifully crafted pond in your garden. From the calming sounds of the waterfall to the tranquil ambience of the LED lighting, the Medium Pond Kit offers an unparalleled garden experience.
Transform Your Garden Today!
Click to purchase and transform your garden into a magical oasis with our Medium Pond Kit. Add tranquillity and beauty to your outdoor space, offering a perfect sanctuary for you and your family. It's time to create the garden you've always dreamed of. Experience the magic of nature today.
Download your very own Aquascape Pond Owners Manual.
Share
Have any of these questions?
Shipping

Our shipping fees apply to UK residents. If you're further afield then reach out to us with your order, then dispatch cant calculate the shipping fees
View full details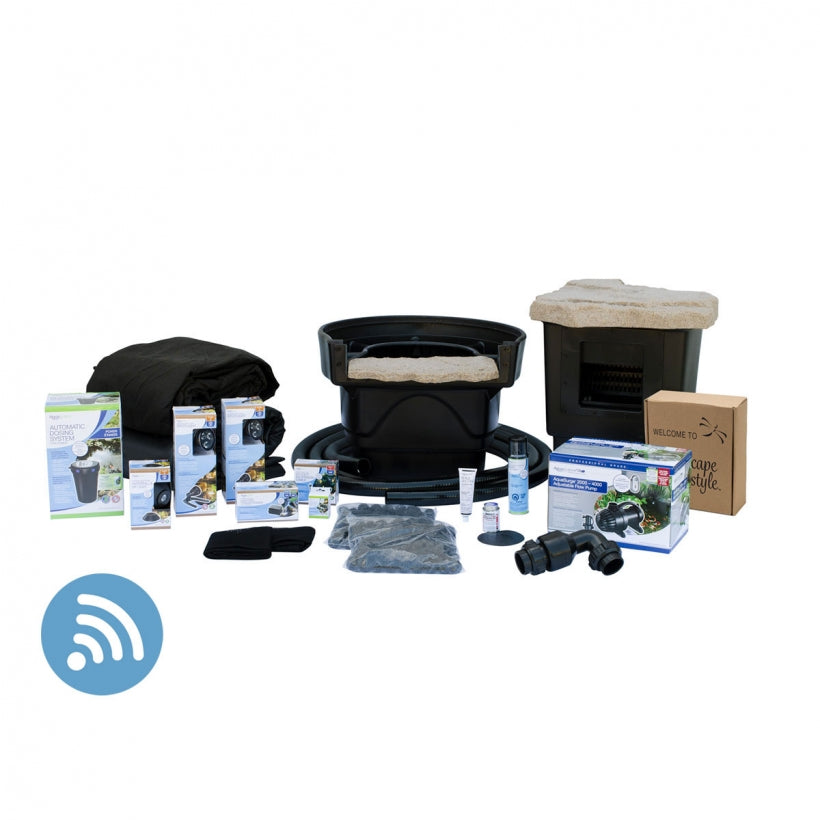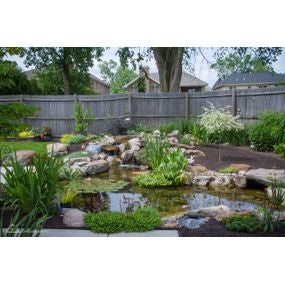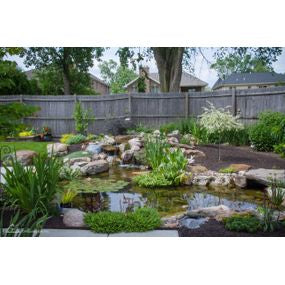 Hand Feed Your Pond Fish
Watch this video to learn how.