Regular price
£21.65
Sale price
£16.65
Unit price
per
Sale
Sold out
Experience the Power of Aquascape Alkalinity Booster with Phosphate Binder
Dive into the world of water feature maintenance and witness the transformative effect of Aquascape Alkalinity Booster with Phosphate Binder on your garden pond. Elegantly formulated and pharmaceutical-grade, this product has been painstakingly tested and proven in laboratories, earning its place as a must-have addition for any water feature enthusiast.
Ease of Use Meets Superior Quality
Our Alkalinity Booster is designed for simplicity. It dissolves seamlessly into your pond's water, boosting its overall KH and alkalinity without a hitch. But that's not all - the inclusion of a phosphate binder enhances water quality and reduces maintenance, making it a companion that your water feature can only afford to be with.
A Safe and Environmentally Conscious Solution
What could be better than a product that not only enhances the health of your water feature but also prioritises environmental safety? The Aquascape Alkalinity Booster contains no phosphate or ammonia, making it a responsible choice for your garden and the world around you.
Invest in Health, Invest in Longevity
By raising your pond's alkalinity, our Booster aids in maintaining a stable pH, an essential aspect of any thriving water feature. Through this, we support a balanced and stable environment for your water feature's ecosystem, promoting longevity and health.
Discover Aquascape Today
Your water feature deserves the very best. We at Garden Water Features Limited proudly sell Aquascape Alkalinity Booster with Phosphate Binder. Take a step towards exceptional water quality and reduced maintenance today. Click to purchase the Aquascape Alkalinity Booster with Phosphate Binder.
Embrace the power of laboratory-tested, pharmaceutical-grade quality. Experience the difference with Aquascape Alkalinity Booster with Phosphate Binder today.
Share
Have any of these questions?
Shipping

Our shipping fees apply to UK residents. If you're further afield then reach out to us with your order, then dispatch cant calculate the shipping fees
View full details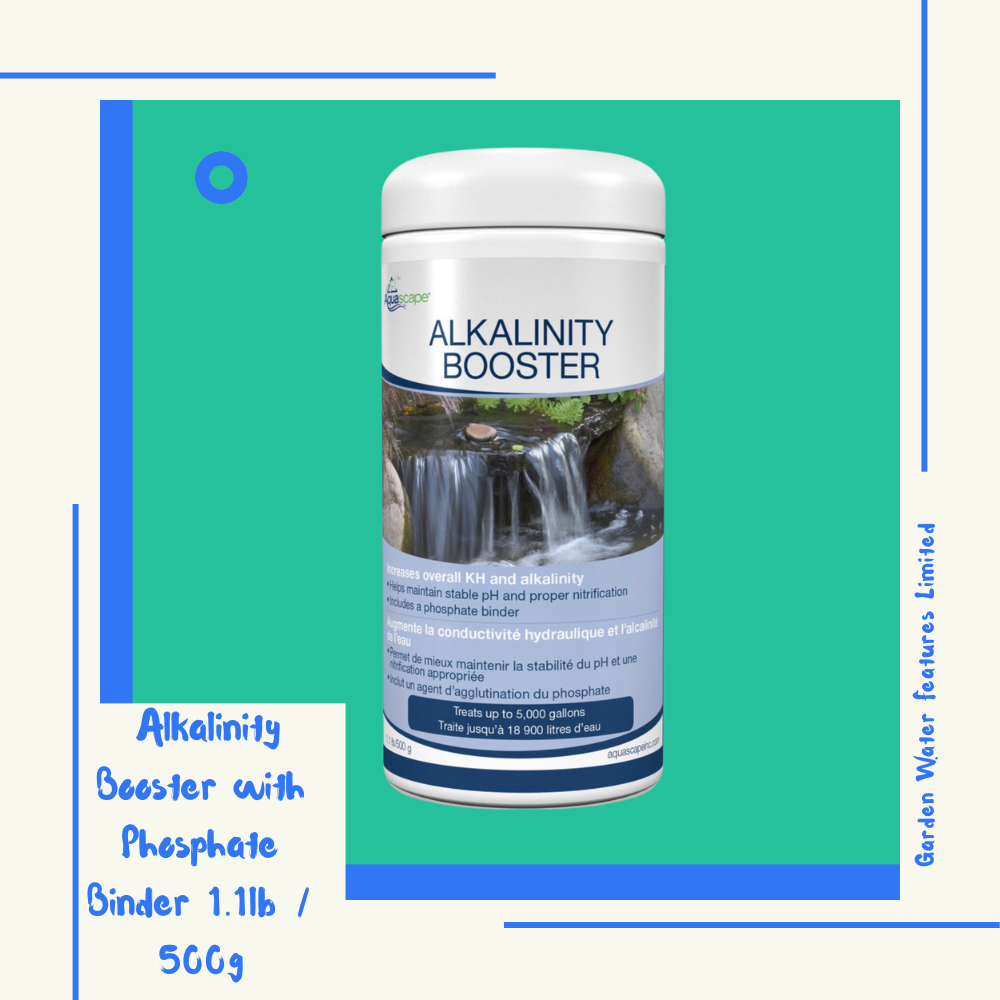 Hand Feed Your Pond Fish
Watch this video to learn how.