Regular price
$43.00
Sale price
$33.00
Unit price
per
Sale
Sold out
Unlock Seamless Connections with the Black Poly Bulkhead Fitting
Reliable and Versatile - The Ultimate Bulkhead Fitting Solution
Elevate Your Plumbing System with the Black Poly Bulkhead Fitting
Introducing the Black Poly Bulkhead Fitting, the ultimate solution for your plumbing needs. Designed with precision and durability, this fitting ensures a secure and leak-proof connection for a wide range of applications. Experience the confidence of a reliable plumbing system with every installation.
Secure Connections for Any Project
Say goodbye to leaks and unreliable connections. The Black Poly Bulkhead Fitting provides a secure and watertight seal, making it ideal for various projects, including aquariums, hydroponics systems, ponds, and industrial applications. Whether you're a professional plumber or a DIY enthusiast, this fitting is your go-to solution for seamless connections.
Built to Last, Built for Convenience
Quality and convenience come together with the Black Poly Bulkhead Fitting. Crafted from premium materials, this fitting is resistant to corrosion, chemicals, and UV rays, ensuring longevity in any environment. Its user-friendly design allows for easy installation, saving you time and effort. Experience peace of mind with a fitting that stands the test of time.
Versatility and Adaptability - Tailored to Your Plumbing Needs
The Perfect Fit for Your Plumbing Projects
No matter the size or complexity of your plumbing project, the Black Poly Bulkhead Fitting is here to meet your needs. Available in a 1 1/2" size, this versatile fitting seamlessly adapts to various pipe types and materials, including PVC, polyethene, and more. Embrace its compatibility and enjoy the flexibility it offers.
Endless Applications, Limitless Possibilities
Let your imagination run wild with the Black Poly Bulkhead Fitting. This fitting opens doors to endless possibilities, from creating custom aquarium setups to designing efficient hydroponic systems. Its adaptability extends to industrial applications, providing a reliable connection for water tanks, sumps, and drainage systems. Unleash your creativity with a fitting that caters to your unique requirements.
Durability and Dependability - Invest in Long-lasting Performance
Built to Endure, Engineered for Success
When it comes to your plumbing projects, durability is non-negotiable. The Black Poly Bulkhead Fitting exceeds expectations with its robust construction and superior performance. Engineered to withstand high pressure and heavy usage, this fitting ensures long-lasting performance, giving you peace of mind and the confidence to tackle any plumbing challenge.
Seamless and Leak-proof Connections
Experience the joy of leak-free plumbing with the Black Poly Bulkhead Fitting. Its precision-engineered design guarantees a tight and secure connection, preventing unwanted leaks or water wastage. Trust in a fitting that values efficiency and reliability, delivering flawless performance for years.
Keywords
Black poly bulkhead fitting
Secure plumbing connections
Versatile pipe fitting
Reliable bulkhead fitting
Corrosion-resistant plumbing solution
Leak-proof pipe connection
PVC pipe fitting
Hydroponics system plumbing
Industrial-grade bulkhead fitting
Long-lasting plumbing performance
Share
Have any of these questions?
Shipping

Our shipping fees apply to UK residents. If you're further afield then reach out to us with your order, then dispatch cant calculate the shipping fees
View full details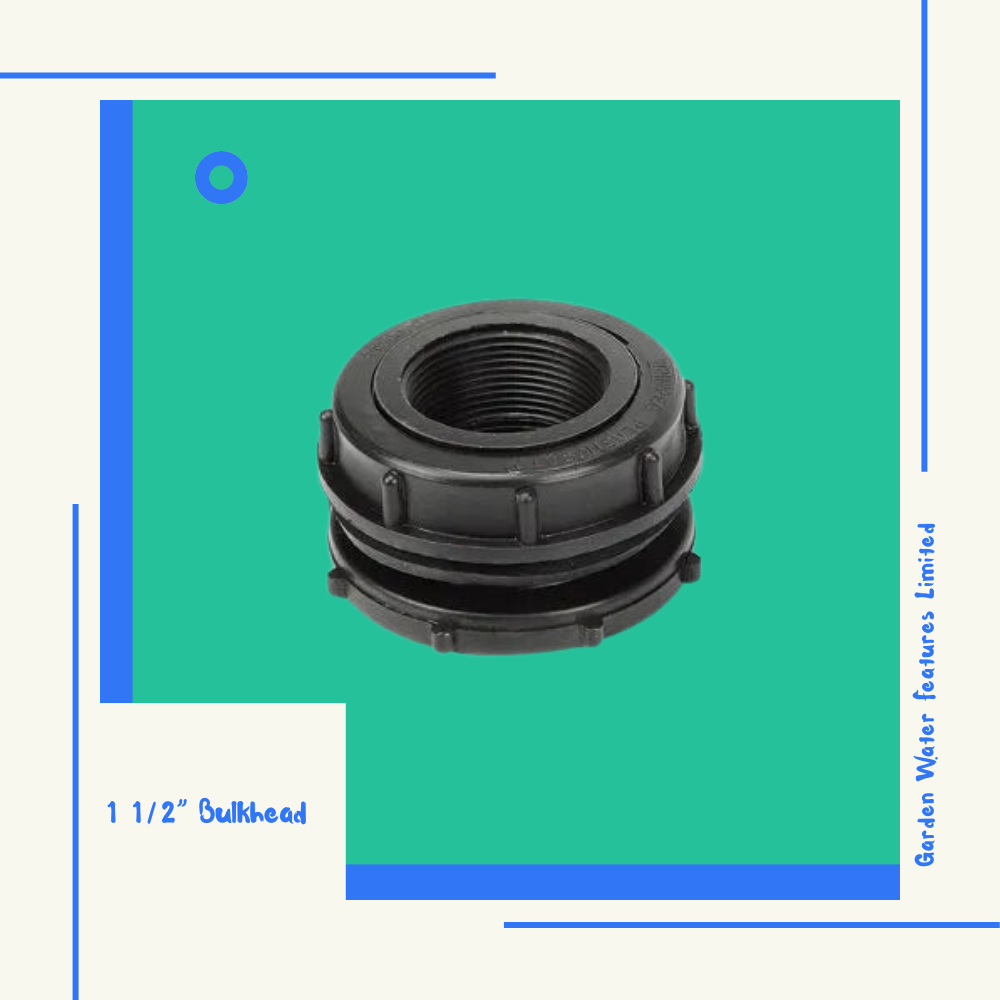 Hand Feed Your Pond Fish
Watch this video to learn how.